Ok, on a deja eu un concert du 2nd Law Tour, et il peut nous donner un avant goût de la setlist classique de cette tournée.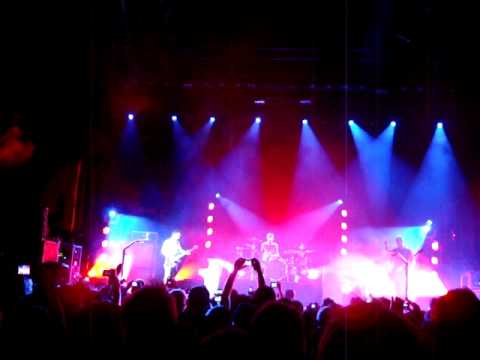 Setlist du live in Koln :
Supremacy"
"Hysteria"
"Panic Station"
"Resistance"
"Supermassive Black Hole"
"Animal"
"Time Is Running Out"
"Save Me"
"Madness"
"Uprising"
"Follow Me"
"Plug In Baby"
"Knights Of Cydonia"

"Stockholm Syndrome"
"Starlight"
"Survival"
Evidemment, il ne s'agissait pas d'un concert trés long, donc d'autres morceaux pourrons s'ajouter au set, probablement des nouveaux morceaux.
Alors : On voit que les concerts pourraient commencer avec Supremacy, ce qui, selon ce qu'on a pu en voir en live, est une EXCELLENTE nouvelle. Du coup, Uprising se retrouve en milieu de set, à voir ce que ça donne.
Les concerts devraient se terminer par Survival, je ne sais pas si c'est un bon choix, Knights of Cydonia étant à mon goût parfaite et irremplaçable.
On retrouve toujours Hysteria, précédée de l'interlude, Time is Running Out,Plug In Baby et Stockholm Syndrome, toujours en rappel.
Uprising, Resistance, Supermassive Black Hole, Starlight et Knights of Cydonia sont là, sans surprise.
On constatera l'absence bruyante d'anciens incontournables de l'ancien set : New Born, Feeling Good, United States of Eurasia, Map of The Problematique, Guiding Light ( qui s'en plaint ? ) ou bien Unnatural Selection. Enfin, nouvelle tournée, dit place belle aux nouveaux morceaux, de plus il s'agissait d'un concert court, je ne désépére donc pas de retrouver New Born ou Map of The Problematique dans de prochains concerts, plus longs. Et n'oublions pas qu'il y a encore des nouveaux morceaux à intégrer au set.